Urgent Care Clinic for Cold & Cough Q & A
At Doc-Aid Urgent Care our experienced doctors & medical staff provides cough and cold treatments near you. Please call us for more information or book an appointment online. We serve patients locally in Laredo, Hebbronville, Zapata, Carrizo Springs, Cotulla, Eagle Pass, and throughout the state of Texas via our Telehealth option.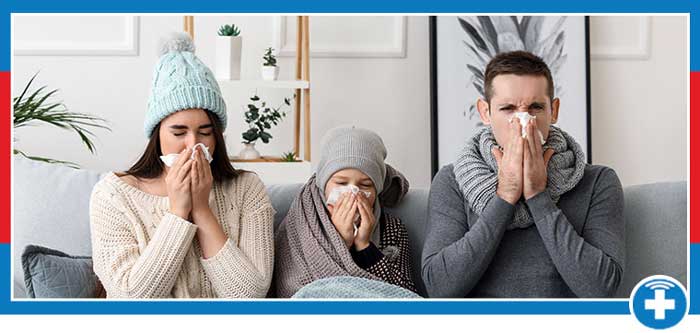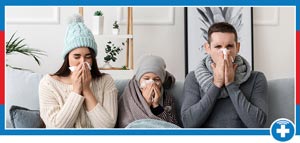 Table of Contents:
How long should a cold last?
How long should you have a cold before going to the doctor?
Can I go to urgent care for a cough?
Do you provide urgent care for colds and coughs near me in Laredo, TX?
A cold or a cough can be a pain to deal with, but there are ways of easing the symptoms of a cold, or even treating the underlying cause of a cough. Here at Doc-Aid Urgent Care, we can help with this, with no appointment necessary. Come right on over to our urgent care clinic for colds and coughs in Laredo, TX. We'll help you get better quicker.
How long should a cold last?

A cold can stay around for a little while, but generally symptoms ease up in about a week. However, a cold can stick around for longer than that if you aren't getting enough rest and fluids, or if you're treating and medicating the cold like it's a different kind of illness.

Sometimes a cough can be caused by a cold, but other times it can be caused by allergies, acid reflux, or even some medications. It's never a bad idea to go see a doctor if you're suffering from a cough or cold, because the doctor can easily identify the cause, provide proper treatment, and help to alleviate the symptoms quickly.
How long should you have a cold before going to the doctor?

If you've been experiencing symptoms for longer than 2 weeks, or if the symptoms keep coming back, then you should definitely see a doctor. The issue might be with allergies or sinusitis, which won't go away like a cold will. At an urgent care clinic like ours, the doctors will be able to treat allergies or sinusitis and provide long-term relief. They can also treat acid reflux if it is causing your symptoms.

Also, if you're experiencing a fever along with the cold symptoms, then you should see a doctor. A person with a fever of 102 F or higher should go see a doctor. And if your child is younger than 3 months old and has a fever of 100 F or higher, then you must take him or her to see a doctor immediately.
Can I go to urgent care for a cough?

Yes, you can come to an urgent care clinic for a cough or a cold! At an urgent care clinic, the doctor will be able to diagnose a cold easily and provide you with medication to ease the symptoms, if you like. The doctor can provide a sore throat spray to soothe a sore throat, and a nasal spray to ease stuffiness. There are other cold and cough medications that can help ease symptoms, like pain relievers, antihistamines, and other decongestants.

If your cough is being caused by an underlying condition, then the doctor can diagnose and treat it. For example, many people have allergies to dust or pollen in the air and experience sinusitis as a result. To address these issues, the doctor can provide a decongestant, an antihistamine, a corticosteroid, or a nasal saline wash.
Do you provide urgent care for colds and coughs near me in Laredo, TX?

Yes, we do! We are located at 2438 Monarch Drive Suite A-375 Laredo, TX 78045. You can find direction on our directions page. Our clinic is open 7 days a week, Monday to Sunday from 10 am to 8 pm, so you can come see us whenever you have any symptoms. We're a family clinic too, so you're welcome to bring your children or an elderly parent in for treatment.

We look forward to meeting you here at Doc-Aid Urgent Care!
ADDITIONAL SERVICES YOU MAY NEED